Gingerbread Home for the Holidays
November 27, 2020

-

December 21, 2020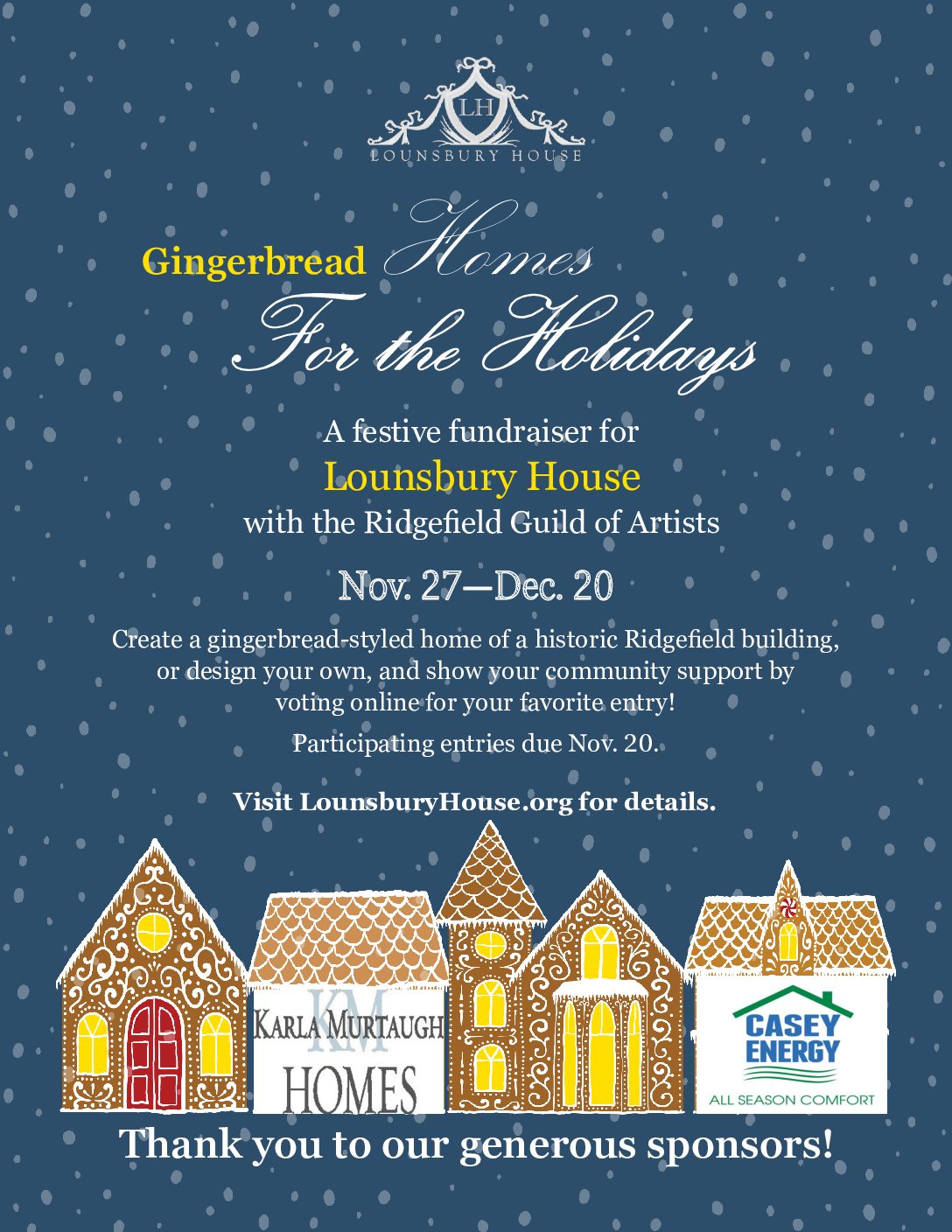 Gingerbread Home for the Holidays
A festive fundraiser for Lounsbury House
with
Ridgefield Guild of Artists
Lounsbury House and Ridgefield Guild of Artists invite you to Gingerbread Home for the Holidays, a magical display of gingerbread 'homes' and other holiday creations.
With the help of our generous sponsors, Karla Murtaugh Homes and Casey Energy, these amazing gingerbread creations will be on window display at Lounsbury House November 27 – December 20, 9:00AM to 10:00PM daily, and able to be viewed from our beautiful outside veranda. Don't miss your opportunity to to view (for FREE) and vote for your favorite while supporting this magnificent Ridgefield landmark!
Vote online now through December 20.
A donation of $25 is required for each vote and you may vote as many times as you would like.
All proceeds benefit Lounsbury House community programming and historic preservation efforts.
Participating Gingerbread Creations:
'Celebrating Community Spirit'
by Tina Sturges with support from Ridgefield Guild of Artists
'West Lane Inn'
by Stephanie Kuhn
'Ridgefield Theater Barn'
by Kelsey Robbins
'Keeler Tavern Circa 1815'
by Jay Steele
'Oh! Christmas Tree'
by Becky & Dakota Smith
'The Sweetest Holiday'
Deborah Ann's Sweet Shoppe by Patty Laspia
'The Ridgefield Playhouse'
by Sarah & Bernard Bouissou
'Ridgefield Hardware Store'
by Michelle & Natalia Schaffer
'ACT's Winter Wonderland'
by Katie Diamond for ACT of Connecticut
'Ginger Bed & Breakfast'
by Emily Martensen
'The Aldrich Contemporary Art Museum'
by Caitlin Monachino
'Angles Among Us'
Molly Tango Foundation with Debbie Haughney
'Lounsbury House'
by Luciana Shortal
'Graceland'
by Eden O'Malley
'Gingerbread House of WHIP Salon'
by Lasett Light & Andrea DeFreitas